Engineering improvements to deliver a better-performing and longer-lasting Coil
Upgrades over the original design for improved durability
Backed by our Limited Lifetime Warranty
View Full Part Listings and Applications
The Blue Streak Legacy
Designed and manufactured at our IATF 16949-certified facility in Bialystok, Poland. Blue Streak® Premium Import Coils feature numerous upgrades and competitive benefits to deliver a more reliable, better-performing, and longer-lasting Ignition Coil. That's the Blue Streak® legacy.
What's inside the Blue Streak® box... superior design,
advanced engineering and Heavier-Duty Ignition Coils.

What's in your box?™
Expert Manufacturing
Blue Streak® Ignition Coils are designed and manufactured at our IATF 16949-certified facility in Bialystok, Poland. Spanning 145,000 square feet, our most advanced facility has more than 750 employees including 60+ resident engineers. At this plant we manufacture more than 6 million ignition coils each year and introduce 110+ new products annually.
A Product of Superior Design
Blue Streak's import ignition coils are the product of superior design, manufacturing, and testing. For example, take our UF549, one of the many new import ignition coils in our line.
Flexible high-temp silicone boot withstands extreme heat for superior insulation

One-piece hi-dielectric strength housing withstands heat stress and secondary arcing for improved durability

Stainless steel spring resists corrosion

High-dielectric epoxy injected into case in vacuum to eliminate air pockets and prevent moisture intrusion

Upgraded brass mounting bushing outperforms the OE and competitors in salt spray environmental testing

Precision-wound 100% ETP copper secondary windings provide higher resistance to shorts and dielectric breakdown

Additional segmented bobbin sections prevent internal arcing and high-voltage breakdown

More secondary bobbin sections compared to the OE coil
Simplified Core Separator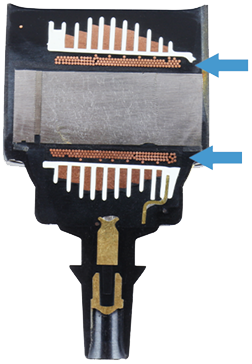 Simplified core separators extend the durability of the coil by compensating for thermal expansion.
Blue Streak's precision-wound bobbin features more sections and simplified core separators to produce higher secondary voltage when required for better coil performance and longer service life. Our engineers conducted voltage tests featuring our Blue Streak® premium import ignition coil, the OE coil and two competitor coils.
See how our UF-549 stacked up in the results below.
Source: SMP Poland Testing Lab, 2020-2021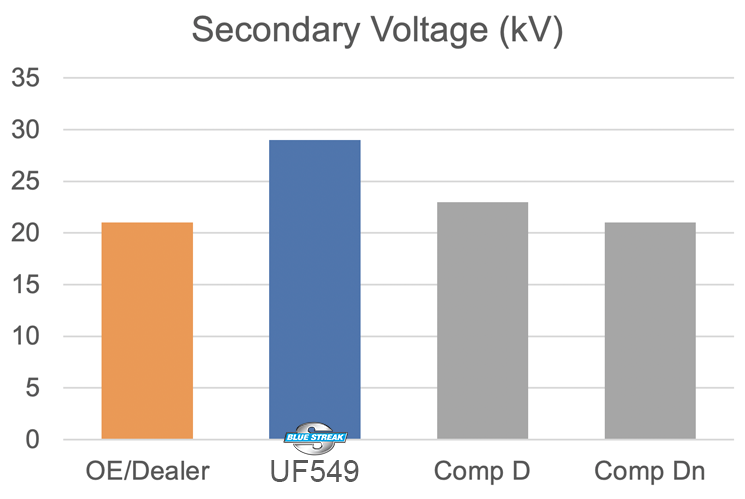 Design Improvements
Blue Streak® engineers made design improvements to numerous OE pencil coils. Take a look at our UF-575 Blue Streak® import coil compared to the competitor design. When you add up all of the Blue Streak® design improvements, the end result is a heavy-duty, longer-lasting import ignition coil that is protected from moisture intrusion.

The Blue Streak® coil features one-piece housing and simplified press-fit; over-molded secondary terminal prevents moisture intrusion and ensures a secure secondary connection for a long-lasting, high-performing coil.
Other manufacturers' two-piece housing and spring-clip design can lead to moisture intrusion, unwanted contact arcing and coil failure.
Source: SMP Poland Testing Lab, 2020-2021
Blue Streak® Outperforms the OE
Blue Streak® coils outperform the OE, producing more spark energy and longer-lasting discharge for improved vehicle performance, fuel economy and emissions. Our SMP Poland Testing Lab conducted a performance comparison between the OE and our Blue Streak® UF-349 import coil. They tested both spark energy and discharge duration.
Let's take a look at the results below:

Testing Results:
The Blue Streak® UF-349 produces 22% more spark energy than OE.

The Blue Streak® UF-349 has a longer-lasting discharge (11%) than the OE.
Source: SMP Poland Testing Lab, 2020-2021
More sections means less heat

Case Study: Blue Streak® Ignition Coil (UF-349)
Problem: Ignition coils on 2020-01 Nissan & Infiniti 3.5L V6s have a high failure rate. A typical system can produce up to 30 kV as needed.
Competitor N features 6 sections and is pushing 5 kV per section.
The OE features 8 sections and pushes 3.75 kV per section.
Blue Streak® with 9 sections only pushes 3.33 kV per section.
Solution: Blue Streak® designed a new Coil to address OE weak points. These Coils are available in multi-packs.
The test results are in: Blue Streak® coils have more secondary bobbin sections than both the OE and Competitor N. The additional section means less heat and a longer service life.
Source: SMP Poland Testing Lab, 2020-2021
Made to Perform Under Harsh Conditions

Our SMP Poland engineers subjected our Blue Streak® UF-349 coil and an OE coil to a 200-hour salt spray test. Just like before, the results speak for themselves.
The Blue Streak® coil with an upgraded brass bushing outperformed the OE in the salt spray environmental test with almost no corrosion, while the bushing on the OE coil rusted.
Source: SMP Poland Testing Lab, 2020-2021
For more than 100 years, when the OE failed, technicians have trusted Standard® and Blue Streak® to deliver a part that's equal to or better than the original it's replacing.