Blue Streak Performance Wire
Using the same premium components we supply to winning race teams, we've engineered and built an exciting line of race car and street performance wires. Taking our advanced technology from the race track and bringing it to the street, Blue Streak wires have become a very exciting and popular brand of ignition wires.
Manufactured with extreme components such as our patented clear-coat formulation, extra-thick silicone outer jacket, fiberglass braid, Kevlar fiber and silicone insulation, our Blue Streak wire sets are built for superior strength and protection.
Blue Streak brand race wires and Blue Streak street performance wires are engineered to provide superior protection, extra-durability and maximum power for real race car and peak street performance.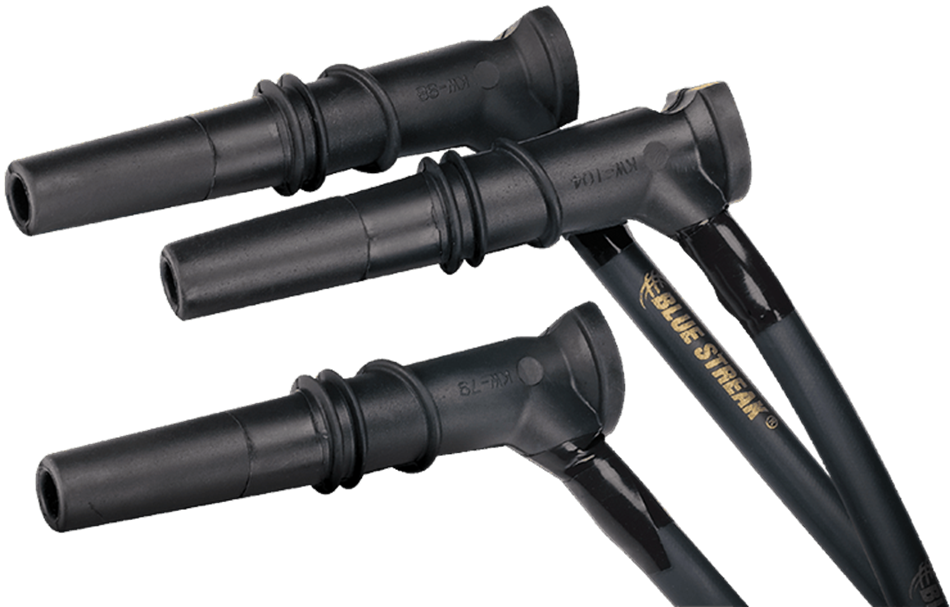 Blue Streak High Performance Race Wire
Designed with superior heat protection, all Blue Streak High Performance Race Wire Sets are engineered to handle the extreme temperatures of high-performance engines. Engineered to withstand more than 600°+F, they offer superior heat protection against boots of comparable materials. Blue Streak's patented conductor offers low-resistance wire (15 OHM/FT) and allows for a hotter spark with greater spark duration - resulting in more power to the plug and greater combustion efficiency. Our patented wire wound ferrite core technology promotes quiet, static-free operation for high-performing electronics. And Blue Streak's extra thick insulation provides the wire core with extra protection from engine heat, abrasion and degradation from oil-based products. All Blue Streak wires include a patented coating that resists underhood contaminants and abrasion. This coating also reflects heat and makes the wires easy to clean so they always look great!
Copper / Nickel Alloy Winding Core

Extra-Thick Silicone Outer Jacket
Silicone Distributor Boot

Silicone Coated Fiberglass Protective Sleeve
Blue Streak Premium Street Performance Wire
Blue Streak Premium Street Performance Wires feature the same premium materials and workmanship as those we supply to winning race teams, but are engineered to fit street performance engine compartments. Premium Street Performance Wire kits are made to fit most engine and exhaust combinations and permits routing around headers and other performance equipment. Our semi-custom kits allow you to customize your premium street performance vehicle by creating a wire set length specific to your unique engine and routing the set around headers and other performance equipment.