SMP Launches 'Share the App Sweepstakes'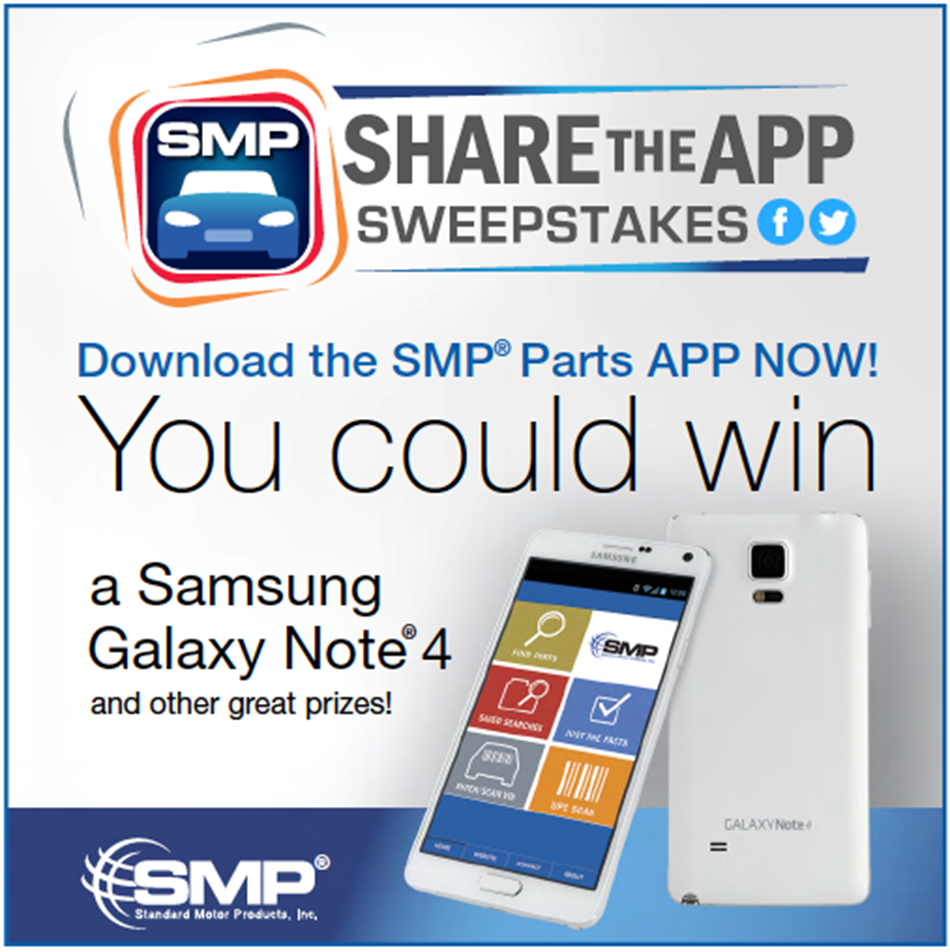 To celebrate the launch of Standard Motor Products' SMP® Parts App, SMP is offering automotive professionals and car enthusiasts the opportunity to win some great prizes. This sweepstakes will award several Samsung Galaxy Note® 4 Phones, Apple Touch® iPods, and the first 500 entrants will receive a free Portable Phone Charger. The SMP Parts App makes it easy to find all the SMP parts you need for your vehicle on your mobile phone or tablet.
To enter the sweepstakes, visit SMPCorp.com/ShareTheApp, download the SMP Parts App (it's free! Available on the Google Play Store and the Apple App Store), and complete the online registration form between January 15, 2015 and March 31, 2015. Share the app to your Twitter or Facebook pages and you can also earn 10 additional entries, to the sweepstakes, for every one of your friends who enter from your link.
While it's always great to win a cool prize, it's even better to have a cool tool that makes finding the aftermarket's best parts easier, and that's exactly what this App does.  The SMP Parts App gives you complete access to all SMP Parts.
The App lets you search for parts by Part Number, Year, Make, Model and Engine, while also letting you search all of SMP's brands at once, or refine your search within only a few select brands. All the parts are clearly showcased in the search results too, so you can make sure you're ordering the right thing. The App also lets you search for parts by scanning the vehicle's VIN number.
When you choose a part, you'll see ALL the information that pertains to that part, including multiple image views, installation instructions, videos, features and benefits, part specifications, even related parts. There's even UPC Scanning functionality so you can scan the UPC code on any SMP® brand package for direct access to all of its relevant information.  Also, every search you make within the App can be saved for future reference so it's easier to find things again later. 
Be sure to join the sweepstakes today to increase your chance at winning!